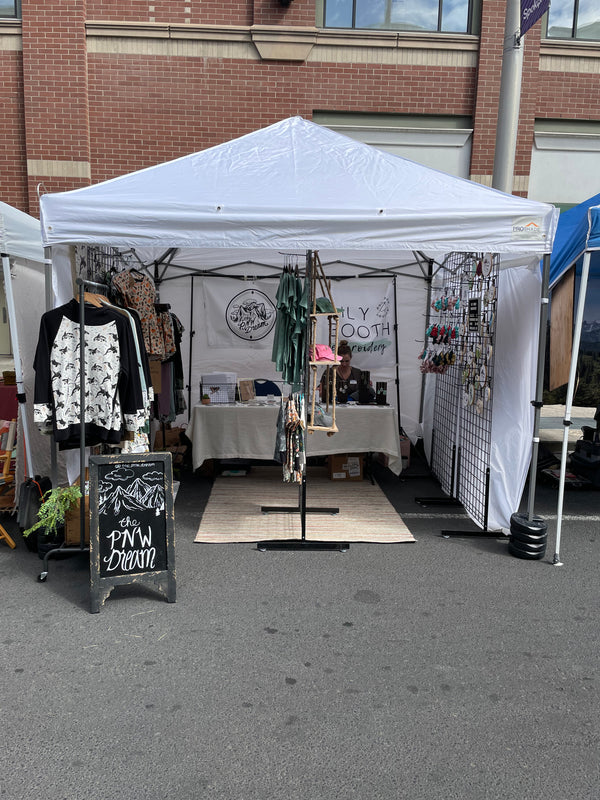 Back to Events
It's hard to believe that our last in person event was two whole years ago. Almost impossible for my brain to compute, honestly. I can still remember one of the last events we did was just months before lockdown. It was the farthest we had gone (to Salt Lake City) and it was hopefully the start of something jam-packed and wonderful for the future of The PNW Dream. Then life came to a halt.
Now events are back, and I hope to be available to do more as we hopefully start to glide back into some kind of normal life.
This was our first one back. Terrain's Bazaar. What a special event to return with as well. It is always such a magical day and this year was no exception. I shared a booth with a friend and fellow maker named Lily and we just had the best time together, talking with people face to face again!
I have to smile when I look at this photo because it so perfectly captures how happy I am in this moment. It just felt so good to be out speaking with you all in person and sharing stories all over again. A forgotten feeling.
More Time = New Prints?
Something happened at Bazaar that completely blew me away as well... we sold out of our Orca Hoodies. They have always been popular and I've always made them in a way to hopefully sell out, but this was the first time it actually happened. I am wearing my own Orca Hoodie as I type this and it brings a smile to my face.
Have I been contemplating a possible second orca print? Yes... yes I have. Along with so many other ideas and I am hoping to be able to jump in head first as my kiddos head off to school this year! Both kids. In school. The possibilities get me so excited. We've made so many memories with them at home everyday and I've loved watching them grow... but wow, this last summer, especially, they are truly not babies anymore and they are ready for the social/learning environment. I am as excited to support them and watch them thrive as well as ready for the extra time I have to jump into growing The PNW Dream and just making more art.
You can always check out some of my non-PNWD related artwork on my Spoonflower shop. If you are a maker, especially with textiles, and you haven't heard of Spoonflower in general, I highly recommend.
New Experiences
If you can believe it, your girl made it onto local news in preparation for Bazaar as well! I think I forget it even happened, and then think back... and wow! What a cool experience. It's all thanks to Terrain Programs!
All of this just added to a wonderful comeback for The PNW Dream in 2021, after a 6 month break. I'm so grateful and so full of vision and excitement for the future!
You can watch the full news reel HERE
When is our next event? We honestly don't know yet. I've spoken to a few organizers about possibilities but I'm still deciding how far we can go, and having to balance local restrictions as well. For now, I have my heart set on Brrrzar, which takes place in Riverfront Square in Spokane, WA. Still waiting to hear if we made it into that one.
I am also hoping to do a few live events between now and the end of the year. So, stay tuned! Whether you are part of our email list or following on social media.
Have a fabulous final week of summer (for many people, including myself) and...