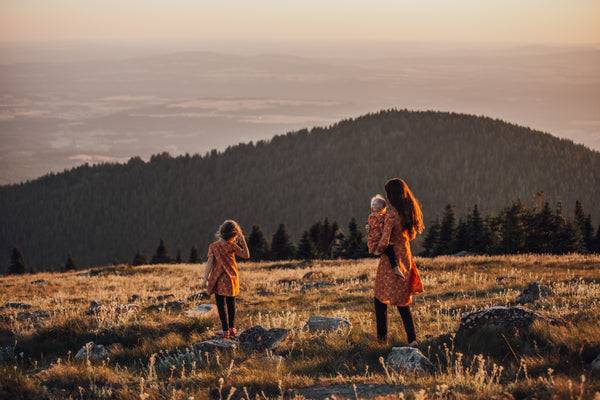 Our Limited Launch
COVID has thrown many businesses for a loop, including The PNW Dream. Just months into us getting to a point where we could hire and had an employee helping us ramp up production, the pandemic hit. We ended up losing our employee right before the holidays. This was a tricky time to hire and train, especially for a sewing position. So, I found myself juggling our busiest holiday season (ever!) alone. I did that, along with wholesale orders and contracted art projects.


(Here I am standing in front of an unfinished mural. One of four that I completed between August-November during our busiest holiday season)
As I have tried to figure out a way to navigate forward, without being able to rehire at the moment, a limited opening was the first step. The plan was to open and receive orders for a short time, and then close, after which point I could dedicate time to manufacturing all your orders. This allows me, for now, a way to juggle sewing all the orders myself and continuing to take on mural projects, fulfill wholesale orders and also find time to continue bringing you new and exciting launches!
We've never done this before and I had no idea how it would be received. I was completely blown away with the orders received on DAY ONE. 
(The Starry Raccoon print is available as a tunic dress and as a kids hoodie)


So, I want to say THANK YOU. This is our fourth year doing what we do and I've had the joy of listening to many of your stories about items bought back when we started and how your kiddos are just now outgrowing them or how much you love the quality. It is such a testament to everything I put into this company and everything I want to achieve with it. Bringing you beautiful, quality clothing that is brought to you as sustainably as possible.
If you haven't gotten a chance to shop this launch, it's not too late. We are open until August 31st. Unless we max out on the amount of orders I can sew up in 3 weeks, in which case we will close sooner.
We have a whole new Fall Collection for you that is beautiful, soft and full of our usual whimsy. Not only that but many retired prints have made a reappearance since everything is made-to-order this time around, so it's a great time to snag some old favorites.
(Our very popular Mighty Morels are just one of the prints to make it back into the shop for our 2021 Fall Launch)


You might be wondering if this is a new normal for The PNW Dream? It is not. However, when we will be completely reopened is unsure. For now, you can expect limited launches similar to this while we continue to grow and pursue rehiring so that we can keep bringing you beautiful, quality clothes for the whole family.
Please enjoy the launch, feel free to reach out to me on social media or via email if you have any questions! Remember, the shop will close August 31, 2021 the LATEST. All orders placed from now until we close will ship no later than September 22, 2021
To all you lovely people out there, living, doing life, please remember,