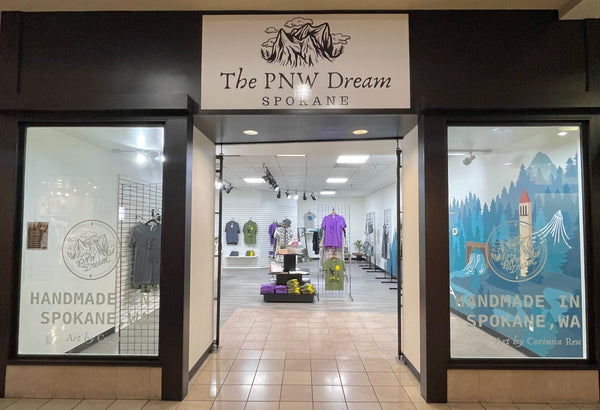 Opening a Store
Many of you, I'm sure, experience this phenomenon where you make a plan… and then, nothing goes according to plan. Long ago, I wanted to move up in the company I was working for. It didn't happen, so I quit and started my own business. When I started all of this, I planned to start painting murals once my kids were both in school, well, I started murals a year earlier. Even now, opening up a store was not exactly according what I had in mind, but it happened in the best way.
The Story
I've wanted to open up a store for years. Where and how was pretty planned out as well.
However, our footing through the pandemic was uncertain, juggling murals and batch-sewing AND moving in 2021 made me wonder what the future held for The PNW Dream. So, I decided to focus up. This year started with a solid layout on how revamp The PNW Dream. My summer schedule was packed with street fairs,  to get our product back out there so that I could keep producing beautiful things for all of you.
Then, one particular phone call, inquiring after a holiday spot in River Park Square turned into exploring the idea of opening up a storefront instead… it snowballed from there, in the best way.
A few of my last summer street fairs got cancelled.
Now, here we are.

There's not much more to say, except that that's the story. An opportunity knocked, the door opened, and we welcomed it in. It may not have been exactly how I planned it originally, but it feels very meant to be.

THE WHY
Why is it The PNW Dream Spokane? I started the PNW Dream to express my passion for all things nature-related and creative, especially celebrating the region I grew up in. However, this little company began right here in Spokane, WA. The city that has given me a home and whose people have supported me and made it what it is today. 
When the opportunity to open a store happened to be in Spokane, I knew it was my chance to say thank you, and expand that celebration of the things that I love to this city specifically. I call this store my love letter to the Lilac City because our goal while we are here is that as we expand the designs, the shirts, the products that we offer, they will showcase all the things we love most about being here.
Watching someone walk by and smile when they see the turkey shirt, knowing full well the trouble that they and those darn marmots can cause is why I am here. Having someone flip through the coloring book and just be delighted. That is what all this is for. 
PERSONALLY...
You know what I love most about having a storefront? Having somewhere to share my ideas. Having somewhere to share my passion, my work and my art. Social media is one thing, but it is it's own world. There is something about being here in person that is really special.
I've always wanted a chance to create a unique space that feels different. I've always wanted to create an experience. This might be retail, but it is my life, it represents the things that I love and care about.
I am so excited to be here and see where this new chapter takes us! Thank you to everyone who has supported us along the way!


ABOUT THE STORE
We would absolutely love to see you here. Whether you are visiting from out of town or a local, come check out our high quality, handmade goods and other cool things we will continue to bring in that hopefully bring a smile to your face.
Where can you find us? In Spokane, WA. Downtown, there is a shopping center called River Park Square and we are on the second level! Our hours are limited until October when we hope to have hired some help and can remain open for the full mall hours!
If you are reading this beforehand, make sure you mark your calendars for our Grand Opening!
Sending love to all!
Keep living a life full of adventure,
Corinna