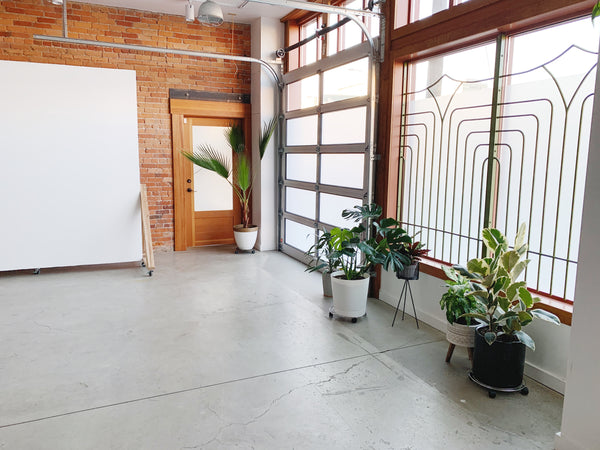 Collaborating Creates Magic
The Pacific Northwest Dream has come a ridiculously long way. Did you know that in June, it will be TWO years old! We officially opened on June 01, 2018. I recently pulled up some old photos from just before we opened.
Does anybody remember this? Look how incredibly tiny my children were. This was before hiring photographers and doing model calls. This was before working in studios, having outfit changes and using props or set design. We were so new to the whole process.
Everything has improved since then. Our timelines, time-management, product quality, craftsmanship, and our process! We have grown. I have grown.
Learning New Things
Running a business and starting from scratch... I'll just say it... it's crazy. There is SO much you don't know. Even being the responsible, thorough person that I am, writing contracts, researching and trying to know all the important things I need to for starting a business; there is so much I have learned since then. Things that when I look back at now, I'm crazy for having attempted all of this not knowing.
But look what a little risk and a little courage made happen. Would I do it all again? Yes, I absolutely would, 100%.
In the two years that I've run this business, I've had some dramatic highs and dramatic lows. For anyone out there following along, reading this and you are a fellow business owner. Hang in there. Those days that you want to give up, don't.
Keep going and one day you'll find yourself on the other side, looking back, incredibly proud of how far you've come and everything you've learned. Then, you'll probably repeat that process for many years to come, just like myself. There are challenges ahead, to be sure, but pressing on and continuing to learn new things, will only help our business grow.
What It's Come To
The two things I always come back to when I talk about the heart of the brand are people and the planet. The two pieces that drive our purpose and vision. They are the two things we circle our decision making around and they are pillars of what we do.
A third, less discussed pillar of the brand is creativity. When you have to start somewhere, you have to start with what you love. For me, it was and is art. That art is inspired by the earth, by the beauty of nature, but its a creative expression.
Art conveys emotions, speaks a message, connects with people and helps people express themselves. Creating beautiful clothing that helps people express their passions and personalities is a huge part of what we do here at The PNWD.
Beyond that, the same way that my fight through running this company is to educate and involve others in what we do and what our goals are, creative expression is not limited to just myself.
That's where we've come to. We've come to the point of sharing our platform.
Creating Magic
As you saw in that first photo, our photoshoots were all makeshift at the beginning. My own family camera, my own kids, and my own ideas. From there we slowly started to branch out.
Collaborating has become my favorite part about building the Pacific Northwest Dream.
This business is so much more than making cool clothes. It's more than our fight to provide a sustainable and beautiful alternative to shopping for clothes. It's more than the fight against exploitation, material waste, synthetics and all the other dark sides of the fashion industry. It's a creative expression.
I never want to lose the part of this brand that started with my need to create, I only ever want that part to grow. And what I love, is pulling other people into the process... creating together. Having a platform where other people's talents can really explode and we can just put something really cool together for you.
This is Kymberlee Smith (left), she is my go-to photographer. We call each other #braintwins because we have so much in common creatively, mentally, functionally. She captures the heart of our brand 100% with every shoot we do and I love working with her more and more each time. The two of us met very organically on Instagram, and I'm so glad we connected. Just supporting each other's work alone, and then the friendship that is being built through this collaboration is just beautiful to me.
Then there is Tia from IN BLOOM (left photo) is equally as amazing. I met her during a Mother's Day show she hosted AT HER HOUSE last year and the immediate vibe I got from her was that she was just super cool. You can hardly see the floral install behind us, but you will see more of it with the launch on Tuesday. Well, Tia practically threw that together in less than a week. Tia shares our heart for sustainability and works hard to bring you the best of florals in a way that is kind to our earth. I'm SO glad to know her and can't wait to work with her again!
Working with amazing women like these fills my cup to the brim. They are creative, they are professional, incredibly talented and both of them know how to make things happen.
Having the honor of working together allowed us to create magic. I can't wait to share that magic with you all on Tuesday, February 25th, 2020!
Sign up for our newsletter and get 15% off our launch. The deal is exclusive to email subscribers!
We still have a small number of those original items for sale. While those prints are retired, maybe you have someone that needs to grab one before they are gone! On sale too!
---
We still have a small number of those original items for sale. While those prints are retired, maybe you have someone that needs to grab one before they are gone! On sale too!